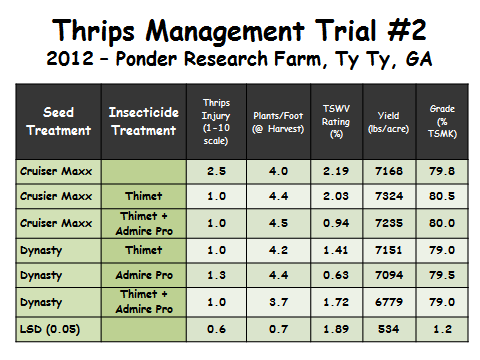 In addition to CruiserMaxx Peanuts bursting on the scene, there is more emphasis on marketing of Admire Pro (imidacloprid) by Bayer this year. There has been work with this product since the mid 1990's to address thrips control. To address some of the most recent work, I want to share the data provided by Drs. Beasley (UGA Extension Peanut Agronomist) and Culbreath (UGA Plant Pathologist) from their trials in 2012.
Dr. John Beasley: Dr. Beasley provided these data from his project called Thrips Management Trial #2. Although there are several comparisons I would like to address that of Dynasty fungicide with Thimet insecticide and Dynasty with Admire Pro insecticide. In that trial you can see the results of these two treatments were very comparable in terms of thrips injury, TSWV rating, and yield.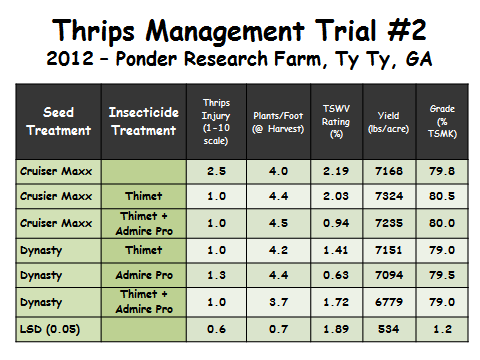 Dr. Albert Culbreath: Dr. Culbreath provided information from another trial looking at Admire Pro and Thimet along with various combinations of fungicide. I have summarized the results into the following table for simplicity. Both treatments were in-furrow on 36″ rows. In this trial there were significant reductions in thrips damage from Admire Pro and Thimet compared to the untreated control. The "thrips injury ratings" were taken on May 25 and are based on a 1-10 scale with a "1" being a very healthy plant with minimal, if any, discernible thrips feeding or injury. A "10" would be a dead plant. A rating of a "6" would be significant thrips injury. Therefore thrips control was comparable to Thimet. And untreated plots showed significant injury. Yields were greater than the control in both treatments, although not statistically significant. For those treatments, the TSWV incidence at harvest was 28%, 23.1%, and 14.8% for Nontreated, Admire Pro, and Thimet, respectively.  We saw suppression of TSWV with Admire Pro, but not control.  As the yields indicate, though, there was no effect of that level of TSWV in the Admire plots on yield compared to the Thimet treatment. Therefore, as long as TSWV resistant cultivars are used, Admire Pro is a current UGA recommendation for in-furrow applications.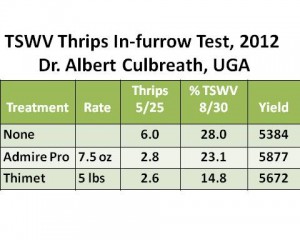 "During 2004-2006, Dr. Culbreath and others studied  new peanut cultivars Tifrunner, Georgia-03L, and Georgia-01R, which have much better field resistance to TSWV than Georgia Green.  In those studies, imidacloprid provided good control (comparable to Temik) of tobacco thrips larvae and the foliar damage induced by larval feeding on young peanut plants, and had no effect on tomato spotted wilt.  In those cultivars, incidence of spotted wilt was low regardless of insecticide treatment.  Several new runner-type cultivars such as Georgia-06G, Florida-07, Georgia-07W, and Tifguard, have field resistance to TSWV that is similar to or better than the resistance in Tifrunner, Georgia-03L, and Georgia-01R.  With this improved field resistance to the virus, we should be able to use imidacloprid for thrips control without increasing the risk of damage by tomato spotted wilt.  Although we have not tested Admire Pro on all of our currently available cultivars, those cultivars in the lowest risk categories (10 points or lower on the Spotted Wilt Risk Index) should have sufficient field resistance to TSWV to allow use of imidacloprid for thrips control."
"The current range of labeled rates is 7.0 to 10.5 fl oz/A applied as an in-furrow spray directed on or below the seed.   Most of our recent work has been with 8 fl oz/A applied in-furrow.   However, we have not tested the 5.25 fl oz/A rate of Admire Pro, such as would be the maximum allowable rate/A per row if split into twin rows.   Keep in mind that when talking about in-furrow sprays in single vs. twin rows, the rate per foot of row is more biologically relevant than the rate per acre.  Spreading the same rate per acre for a single row pattern over twin rows DOES affect efficacy.   The 5.25 fl oz of Admire Pro is higher than what looked to be a marginal rate in earlier studies, but we do not have data to indicate conclusively that it would provide control similar to the higher rate."
Mace Bauer: In my interpretation of this information, the UGA recommendations for thrips control includes Admire Pro at 7.5 oz per acre in single 36″ rows. The maximum label rate of 10.5 oz per acre may be suitable for twin 36″ rows, however that has not been studied thoroughly to make this recommendation. Of greater concern to me is the  adoption of twin 30″ rows that we are seeing throughout north Florida. At the maximum label rate of 10.5 oz/acre on twin 30″ this would be a concentration equivalent to the 4.37 oz rate on 36″ single rows. The chart above shows that TSWV control is reduced with Admire Pro at the 7.5 oz rate, so i have reservations of farmers moving to a concentration almost 50% less than that without further evaluation. Therefore, as I mentioned in the previous post, practice due diligence on your farm to test out new technologies on a limited scale, particularly where you are looking at treatments where the Universities have not confirmed their application, such as the twin row spacing.
Source: Dr. Albert Culbreath, University of Georgia Plant Pathology, and Dr. John Beasley, University of Georgia Extension Peanut Agronomist