It is been pretty quiet around here in terms of the peanut market. Most springs people want to talk about the market and the crop prospects. Some of them must think I am an economist, some use me as a  contrarion indicator, they do the opposite of what i say. For those who don't know me. I AM NOT AN ECONOMIST.  Even with the lack of enthusiasm, we still recognize the importance of peanuts to our local economy. I actually haven't had anyone locally tell me that they have signed peanut contracts, and there are peanuts around, although not as many as the past few years. There are a few acres remaining to be planted locally where the soil moisture was depleted before the field was planted. Overall, our area appears to be ahead of the Southeast. The NASS report from May 19, 2013 showed : GA, 45% planted; AL, 24% planted; and FL, 47% planted. I suspect this late planting will  knock some of the top end off the yield levels we saw last year.
What little ecomomic discussion I have had with area farmers was not so much about this crop, but the next. Most people I talk to feel comfortable this crop will not bring $500/ton. Economically speaking, our irrigated producers have a hard time making that number work and have moved primarily to corn under irrigation, and planted peanuts in nonirrigated fields. Recently, our thoughts moved onto expectations for 2014. Its probably a little early to consider, but with the latest release of the Crop Production and Peanut Stocks and Processing, we have a framework for discussion. Two major unknowns are planted acreage and final yield. The USDA estimate is currently using 1.2 million acres, a 27% reduction from 2012. They are probably pretty close with this estimate, but we wont know until the release of the next June 30 Acreage Report.  The yield estimate at this time is 3,800 pounds per acre, which is a real unknown, but possible.We do know Texas and Oklahoma are still in a rainfall deficit, Alabama with late planting, and there are few irrigated acres in FL and GA.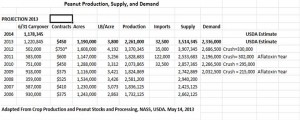 I have adapted the attached table from the Crop Production and Peanut Stocks and Processing Report dated May 14, 2013. (Note: The contract prices I included are my own addition, not provided by NASS. Those numbers I gathered in discussion with local farmers.) Obviously the 1.22m ton carryover has weighed on this market. Most importantly, using the current Acre, Yield, and Demand estimates we see a 1.18m ton carryover heading into 2014. This is a large number that is weighing on the market at this time, and will impact contracts next spring as well. However, if we plug in 3,300 lbs per acre average yield, the carryout quickly drops to a manageable 880,000 tons. This number will have a large impact on whether we see a second year of belt tightening to produce peanuts at break even prices or below. Please proceed with caution. As I mentioned, I AM NOT AN ECONOMIST, but I play one when the phone rings and area farmers want to talk.