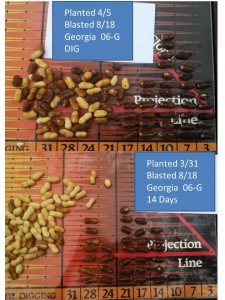 I had a few samples to "pod blast" here in the office this week. These included peanuts planted the last of March and first week of April. We finally found the peanuts "we've been looking for." To me that means the first ones to dig, OR the last ones to dig. It looks like a few fields are ready this week and others close behind. For comparison, here are the boards from peanuts planted 3/31 and 4/5. This comparison is an excellent example why we like to do these maturity profiles to schedule digging.
For those unfamiliar with this procedure, the outer coating of the peanut is "blasted" off with high water pressure. The dark colors of the top sample in the picture and their placement on the right side of the board shows they are more mature than those in the bottom picture. The peanuts planted 4/5 were ready to dig and the earlier planted field was about 14 days behind. That means our peanuts are running from 135 days at one extreme to 155 at the other. Of the samples I had, 135 to digging was definitely the exception. Neither field was irrigated this year, although one was under a pivot. The farm records show 29.5″ of rain since planting which is more than enough for our peanut crop and it was well spaced throughout the season.
I included the farm rainfall data into the UFL Peanut FARM website to check the Growing Degree Days for this location and used the closest FAWN weather station for temperature. The output from the maturity model is shown in the table below. On these fields, we are nearing the 2,400 aGDD's which we are using as a guide for peanut harvest maturity. However the first field was ready at about 2,300 aGDD's.
aGDD's = adjusted Growing Degree Days. These are based on a model which includes rain/irrigation and daily temperatures.
If you would like you can visit the UFL PeanutFARM website at peanutFARM. You can enter your planting dates and use the nearest weather station to your farm.
 Field Status Report for Aug 22, 2013
| Farm | Field | Days After Planting | Cumulative aGDDs | Irrigation Rec | Harvest Rec |
| --- | --- | --- | --- | --- | --- |
| Mace | A | 138 | 2,333 | Adequate Soil Moisture | Check Profile |
| Mace | B | 145 | 2,385 | Adequate Soil Moisture | Check Profile |
I am "pod blasting"  at the Extension Office on Tuesday Mornings through the end of harvest. Please drop off samples anytime Monday or on Tuesdays by 10 AM. Please have them off the vines and include enough nuts to fill a sandwich or quart size zipper bag.
The only exception to this schedule will be blasting the afternoon of August 26th instead of the morning of the 27th due to scheduling conflicts.