It's that time of year when farmers, friends, and families throughout the Southeast take a break from harvest and head to the Sunbelt Ag Expo in Moulrie Georgia. The Sunbelt Ag Expo is the largest agricultural expo in the southeast attended by over 100,000 visitors! With over 1,200 commercial exhibits and agricultural demonstrations there is plenty to see and do. This year, Florida is honored as the "Spotlight" state. Please stop by the Florida Building to see some great exhibits including "Florida Agriculture: Then and Now" presented by Florida Dept of Ag and Consumer Services. UF/IFAS Extension has a huge display called "Water!" and eight interactive exhibits. Be sure to get some Florida Peanuts and Fresh Orange Juice while you are there.
If you can't get there and want to check out some of the action, the UF/IFAS webcam's are streaming all the traffic live from the Florida Building. http://sunbelt.ifas.ufl.edu/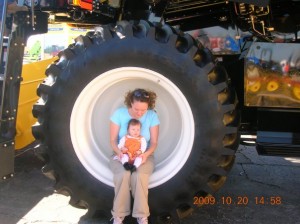 Many of us love to go to Sunbelt to check out the newest equipment, and to learn what $600,000 will buy you. This is also the one time of year we can climb on equipment without being covered in dust. Many of our area farmers take a day and bring their children. I would like to share one of my favorite photos from Sunbelt when my daughter was just 4 months old.  It isn't so much for what happened, but what it reminds me of from my childhood. Since you made it this far I will tell you about it. Long before "monster trucks" was a household word, a man named Bob Chandler owned Midwest 4WD in St. Louis. My mother knew Bob Chandler through her career as a drafter (this was before computers, she used pencils). Well my brother and I used to go up to Midwest 4WD, also known as "The Home of Bigfoot" and roll each other around in the "Bigfoot" tires. This was a different era, when kids could play in 4wd shops and Bigfoot was Bob's daily driver. This was before "Take This Job and Shove It" was released in 1981. Bigfoot went on to bring Monster Trucks into pop culture. I tell you all this, because at that time, Bigfoot #1 (the original) had 48″ tall tires, much like those my wife and daughter were sitting in at Sunbelt in 2009. Of course I had to tell her this story at the time, and she wasn't impressed. But it's these experiences that make us who we are. For a taste of Bigfoot circa late 70's early 80's as we knew it, check this out.