I have become very concerned about the potential for fungal diseases in corn.  I'm hearing about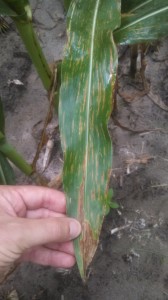 Northern Corn Leaf Blight concerns in South Georgia and I know it has been observed to a limited extent in nearby counties.  My greatest concern locally appears to be Southern Corn Leaf Blight based on field diagnostics. I'm anxious to get a sample to the lab for verification. My concern is that I've worked with grain and dairy farmers in the previous couple years who have had major losses to "blight." I will follow up when I get confirmation by a plant pathologist. We are using at tassel fungicide applications and planning follow-up applications 14 days later. Some popular hybrids appear to be much more susceptible than others.
I have also found nitrogen deficiency in area fields and farmers often get these deficiencies and disease symptoms confused. Fields that are showing nitrogen deficiency are receiving additional fertilizer applications through fertigation.
An agronomist for a seed company contacted me and said that he observed Southern Rust in several fields in North Florida. Although I have not observed any to date, I expect under the current conditions we will begin to find rust in our area in the near future. I recommend farmers use vigilance in scouting corn fields.