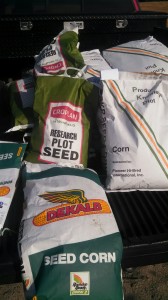 One of the most important decisions farmers can make is selecting the appropriate variety for their conditions. "Conditions" is a broad way of saying soil type, fertility, irrigation, cultural practices, and weather.  Farmers in Columbia County have long been leaders in sharing their farms  with UF/IFAS Extension to install variety trials. In these trials, many of the newest released varieties are planted, growth is monitored throughout the season, and yield is measured and compared at harvest. This cooperation provides an excellent source of local information for other area farmers. It also assists Extension to improve our recommendations and study characteristics and management concerns with new varieties.
This year, farmers have worked with Extension to plant a peanut cultivar trial and a corn hybrid trial in Columbia County. The peanut cultivar trial is located at I.C. Terry Farm once again. The Terry family has assisted to develop an excellent source of long-term data to document the yield and disease susceptibility of peanut cultivars released from the University of Florida peanut breeding program. Researchers at University of Florida in Marianna have developed a premier breeding program which has helped to increase the average peanut yield in Florida by about 35% in the last several years. At the Terry Farm, we typically see a 25% difference from the lower yielding cultivars to the highest. Identifying the yields of newly released cultivars allows local farmers to be on the leading edge of plant improvement when it occurs. However, highest yield is not the only important factor. Some peanuts might yield less, but are more tolerant of lower inputs. Specifically, they require less expense to fight disease or insects, and even with lower yield may be more profitable.
Farmers have also planted a corn hybrid trial in Columbia County this season, located at Bar-D Ranch near Columbia City. This trial was planted by 83 Farms from Bell, Florida. New corn hybrids are available each year, and trials offer an opportunity to investigate what's new, without putting the farm at risk of major losses. Corn hybrids are developed for much larger market geography than peanuts, and thus are sometimes poorly adapted to local conditions. In 2014, a disease called Southern Rust severely impacted local corn production, and these trials helped learn about the susceptibility of each hybrid, enabling farmers to make better decisions. At Bar-D Ranch we are also working with sophisticated soil moisture sensors to develop advanced irrigation management practices. Irrigation management is an important component of corn production in sandy soils.
Thanks to the local farmers who give of their time and resources to partner with Extension to provide better recommendations to the farming community. UF/IFAS Extension in Columbia County will work with these farmers to host tours and field days at these trials this summer.