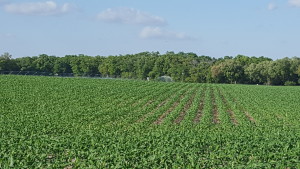 The local corn crop is mostly planted and conditions have been favorable for plant development. There are a few irrigated fields where cattle need to be moved or last minute cropping decisions made. Non-irrigated land may be planted to corn over the next two weeks, hoping to receive more abundant rainfall during pollination and grain fill in June and July. Below is more information from the UF/IFAS Field Corn Production Guide related to planting date recommendations for North Florida.
Planting Date
Corn growth and development are primarily dependent on temperature rather than day length. Successful germination requires a morning soil temperature of 55°F at a 2-inch depth for three consecutive days. This can range from early February in light sandy soils to mid-March on cold, wet, heavy soils. Frost may still occur after these planting dates, but corn normally withstands frost damage to above ground tissue, since the growing point is still below the soil surface until corn reaches about 12 inches tall.
In Florida, planting dates for corn begin in late February and proceed to late April.
Advantages to early planting include the following:
More stored soil moisture
Higher yield potential
Lower temperatures during pollination
Longer day lengths at pollination
Early harvest before cotton and peanuts
Less insect and disease pressure