Downy Mildew of Cucurbits Update for June 11, 2013
Nicholas S. Dufault, Assistant Professor of Plant Pathology, Extension Specialist for Vegetable and Field Crops.
The risk of Downy Mildew disease development is high for many growers throughout North and South Florida. This disease, caused by the fungal like pathogen Pseudoperonospora cubensis, thrives in cool (59 to 77 F) and wet (> 90% RH, rainfall and dew) conditions. The recent passage of tropical storm Andrea, along with continued rainfall throughout most of this weekend, has led to optimal conditions for disease spread and development. The pathogen has been observed in South Florida throughout most of the growing season, and was recently identified in Marion County (June 3rd) and Pasco County (June 7th) (http://cdm.ipmpipe.org/). (MB edit ipmpipe.org also showing downy mildew identified in Cook County GA on 6/5/2013) Symptoms of this disease will start as small yellowish areas on the upper leaf surface that become a bright yellow with the centers turning brown (see attached picture). These spots are angular and are generally limited by the leaf veins.  As the disease develops a white to grayish fungal growth will appear in the undersides of these lesions when the leaves are wet. Often, dark purple spores can be observed in this fungal growth with the unaided eye or with the help of a hand lens (20X) (see attached pictures). On watermelons, yellow angular leaf spots will also develop, but they will later turn brown to black in color and often cause leaf curling (see attached pictures).
Integrated disease management:
            Crop rotation and many other cultural practices have minimal effect on this disease, since the pathogen can produce large quantities of spores that are airborne and can travel long distances in the atmosphere (>50 miles). Often the best management for this disease is through timely applications of Downy Mildew specific fungicides.  Below is a list of some commonly used fungicides for control of Downy Mildew (Table 1). A more complete list can be found in the Vegetable Production Handbook for Florida (http://www.thegrower.com/guides/).
Table 1: A list of commonly used fungicides for controlling Downy Mildew (Pseudoperonospora cubensis) of cucurbits. This table is meant as a guide for fungicide management1 selection. Always consult product labels before any fungicide spray to a crop and rotate between chemistries for proper fungicide resistance management.

Fungicide(s)

FRAC2

Relative Efficacy

Type3

Chlorothalonil

M

Good

C

Mancozeb

M

Good

C

Gavel 75DF

M + 22

Good

C+S

Ranman

21

Very Good

S

Tanos

11 + 27

Very Good

S

Previcur Flex

28

Fair to Good

S

Revus

40

Fair

S

Zampro

40 + 45

Good

S

Presidio

43

Very Good

S

 1  Disease management should be part of an integrated program with crop rotation, debris removal and resistant varieties.2  FRAC numbers correspond to the fungicides mode of action, more information can at: http://www.frac.info/frac/index.htm3  Letters correspond to the two types of fungicides known as contact (C) and "systemic" (S). Contact fungicides should be only applied in a preventive manner. "Systemic" fungicides should also be applied primarily in a preventive manner, but can be applied after the disease has been observed.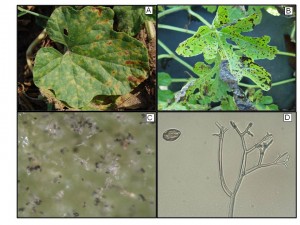 Figure 1. Typical symptoms and signs of cucurbit Downy Mildew. A.) Yellow to brown angular leaf spots associated with Downy Mildew on squash. B.) Black leaf spots with some leaf curling from Downy Mildew on watermelon. C.) Fungal growth on the undersurface of a watermelon leaf with dark (purple) spores present. D.) A Downy Mildew spore (sporangia) and spore bearing structure (sporangiophore) (200X).