The peanut industry was patiently awaiting the Prospective Plantings report by USDA on March 31, 2014. Leading up to the report I saw several predictions in print of a 10-15% increase in planted acres. However this report apparently blasted those expectations. I guess we will know soon enough as peanut planters are now rolling in many of the peanut growing areas of North Florida. Although it is not the optimum conditions in many cases, many farmers spread planting dates over a large window to manage equipment, manage the harvest window, catch dryland fields while they have soil moisture, and work around other farmwork that must also be completed.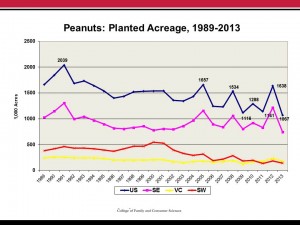 There has been much speculation around the impacts of the Farm Bill, lower commodity prices, crop rotation and the combined impacts of these on peanut planting. This winter Dr. Nathan Smith provided figures that I think were very telling, and largely ignored by the industry. I am referring to the chart showing planted acres year by year. In that graph, we see an obvious trend which some call the "peanut roller coaster." Someone could complete a dissertation to determine if the fluctuation of market prices are causing shifts in planted acres, or if shifts in planted acres are causing market fluctuations. However, regardless of  the cause and  the effect, this chart might foreshadow larger planted acres than suspected by market price alone. I can't tell you how many times I heard this winter that price isn't always the factor that determines planted acres. Unfortunately that was usually stated right before someone else would say that low peanut prices will limit planted acres regardless of other market conditions.
The Prospective Plantings report issued by USDA showed a 29% increase in peanut plantings compared to 2013. A "straw poll" conducted by Extension Agents in 7 North Florida Counties (very unscientific methodology) pointed to a 10% increase in peanut acres in  our area. The USDA found a similar increase for the Florida statewide acreage. However, in speaking with input suppliers, one recently commented his customers will be  planting fewer acres of peanuts. I have said since February that farmers were not making planting decisions this year, but instead making "planting indecisions." As planting moves into full swing, this market will have a better feel for actual conditions. If you would like to see the March 31, 2014 Planting Intentions report issued by USDA,  It can be found HERE. Please enjoy these charts and tables and if you think you have it figured out, send me an email.