I share this quote that one of our North Florida farmers made this week. "Peanuts at Wadsworth haven't had rain since around July 15, about 4 weeks, starting to see signs of needing water.  Lafitte is not doing well at all, showing a lot of stress."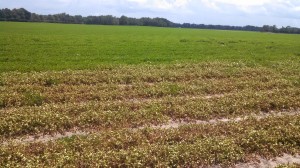 Moisture stress has been the name of the game in our area. I have seen many fields that were in moisture stress for at least three weeks. Some of  those spent three weeks earlier in the season in a period of  stress, before getting a brief reprieve with some rainfall around July 15 and 16. I had several cases where farmers were skeptical of making any crop on their later planted peanuts. However, recent rainfall locally should eliminate that concern. However, as you can see from the above quote, many of our areas are yet to see substantial summer rainfall, or are seeing only light amounts which do little to recharge the soil profile. I have seen some fields where peanuts are apparently dying from lack of moisture, as I can't find any other causes to attribute this to, and they haven't come out of stress for weeks. The included photo shows a tough area of pivot dry corners.
The USDA released state and national peanut yield estimates in the August  Crop Production Report. The first thing the report shows is there is nothing like low prices to encourage planting a few more acres. In a year the market was screaming for fewer peanuts, planted acres are up substantially. The USDA has included yield estimates in this report based on farmer observations. Right now, Florida farmers are pegging this crop very close to last years total. I am very skeptical we will be within 90% of last year's yield averages right now. With many of our peanuts planted prior to May 1, this recent rainfall comes when peanuts are 105 days old or more. It takes approximately 45 days from pegging to harvestable nut. For this portion of our acres that have struggled in dry conditions, I am scared that the rainfall is too little too late to reach yield goals. The peanuts planted later in May still have sufficient time to set a late crop if rainfall persists over the next 45 days. Regardless, we are seeing conditions where it will be important to wait on this late setting crop to develop, and protect these peanut vines to the very end if we hope to reach anticipated yield levels.

One other phenomenon the last several years has been lower summer temperatures. Dr. John Beasley, Head of the Department of Crop, Soil, and Enviromental Sciences at Auburn University, educated us in his prior position as UGA Extension Agronomist on the positive impact of cool temperatures on flowering, pegging, and yield. I asked Dr. David Zierden, the State Climatologist about 2014 temperatures. He shared a great summary of actual conditions. The moral of the story was, we are back to "normal" temperatures, with Florida slightly above average, not like the below average summer temperatures of 2012 and 2013 that resulted in larger crops. Dr. Zierden's comments are HERE. I'm afraid when you combine normal temperatures and below normal rainfall, reaching the average yields of last year will be just a dream. So we will wait and see. I'm hearing of harvest rolling into gear in Levy County and rumors digging will begin soon in Gilchrist County. In the mean time we will keep the irrigation running where we can and try to fight off the caterpillars.