My phone often rings with questions about the peanut market. The market conditions are not as clear as the Chicago Board of Trade where farmers can pull up current prices 24 hours a day. They often think I may have some "inside track" of information they are not exposed to. Most farmers know little more than what they see on their farm. However, I sometimes wonder if the peanut buyers are gifted with any better information. It is difficult to get an accurate assessment of crop conditions for peanuts until we start harvesting, and even then harvesting conditions have a large impact on final yields. So perhaps it is a level playing field for all involved.
I have had a lot of questions the past few weeks as peanut harvest begins related to the peanut crop in general, and the peanut market specifically. On August 1st, a production estimate was issued by the USDA. The most peculiar thing about the report was that the USDA showed Georgia, Alabama, and Florida; which are the largest peanut producing states, within 4% of their 2013 average yields. This was based on farmer interviews conducted on August 1, 2014. We were discussing this at the local Twilight Tour, and I put it this way, "I have news for you, this isn't 2013." When I get phone calls about why do peanuts look like they were sprayed with paraquat, it is not good.  Right now I am calling dryland peanut yield in our area 25% below 2012 and 2013. This year looks remarkably similar to 2011 to me. I can't help but remember in 2011, all the talk was about how the year we get good conditions the new peanut cultivars would shine. We saw that shine in 2012 and 2013. But yields were not so impressive in 2011.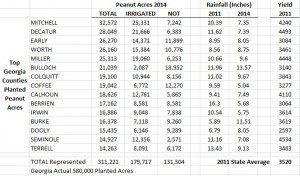 My memory from 2011 was that we were at the tail end of a long-term drought. In fact, conditions were extremely dry until May 2011. Comparatively, in 2014, we had extremely wet conditions coming into the summer. However, in my mind I remember the summer of 2011 actually being wetter than what we have seen this year. Because of these calls and questions, I compared the rainfall from summer 2011 to 2014 for the top peanut producing counties in the Southeast.
It appears to me that conditions were remarkably similar in June-July-August of 2011 to those of this year. In fact, my analysis shows that it was wetter in 2011 for most of our peanut production areas. It is hard for me to believe we are talking about such a large peanut crop after these conditions, however many of my colleagues from Georgia and Alabama have said conditions were pretty good until August. With poor soil water holding capacity, our local crop went into stress much earlier in the season than that observed in neighboring states.  We will receive updated crop production estimates in September, and I expect the low rainfall conditions of the June-July-August period will be expressed in that crop estimate. I am expecting final yields will be comparable to those of 2011 considering the similarities between years and that was a year that the "new cultivars" were broadly planted and grown under drought conditions.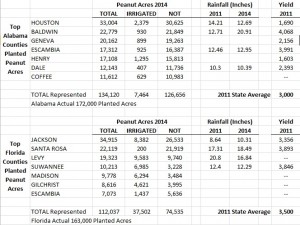 Production is one piece of the peanut market, demand is another. An unfortunate consequence of a drought stressed crop is the prevalence of Seg 2 and Seg 3 damaged peanuts. The crushing of these peanuts leads to potentially higher demand. We have also heard that demand has been strong as peanut prices have been rock bottom for the past 24 months. While I don't have a grasp for demand, I have compiled a table considering the USDA predicted demand for the 2014/2015 marketing year, coupled with my expectations for 2014 production.
In my crystal ball, I see yield levels back toward the "old" averages. A large part of the oversupply we were dealing with cleans itself up as a result of the high demand stimulated by depressed prices. Unfortunately competing crops are at rock bottom prices and there is little competition for acres in 2015 to carry prices higher in the future.
I will stick my neck out and say the price levels of 2011 were a mistake upon the industry, and we won't see those again. However,  I am curious how many un-contracted peanuts there are available and think there might be a nice premium placed on those few uncommitted peanuts. In closing,  I think there is a lot to be gained from the comparison of 2011 and 2014, and the yield levels I expect to see should add a little excitement to the market. We'll know a lot more in November!

This information may be dated upon its release and should not be considered interpersonal advice. This report is merely an opinion. Marketers should not consider entering positions without their own independent analysis of the current market situation, nor without considerations of changes which have occurred since publication. The author is not responsible for any verbal or written claims which may arise as a result of this publication. The information contained herein is provided as a general guide and only for the purpose of quantifying the author's opinions. This report includes information from sources believed to be reliable but independent verification has not been completed. Opinions expressed are subject to change without notice.